Schedule a Consultation
Franzia F.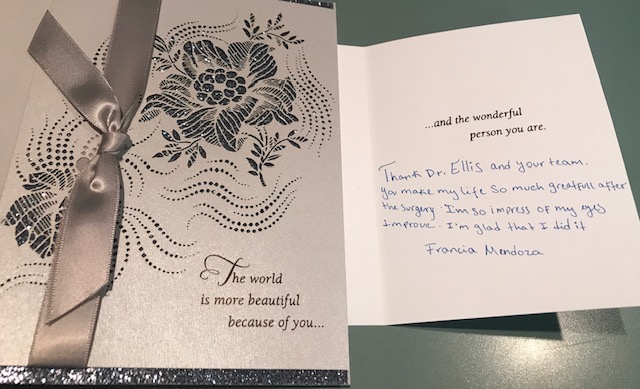 ---
Mary, A Vision Correction Patient
---
Suzana, A Monovision Patient
---
Blanca, A Vision Correction Patient
---
An El Cerrito, Epi-LASIK Patient
---
Blanca Marquez
I chose Dr. Ellis to do my [Epi-LASIK] surgery because he came highly recommended by my sister who had just had LASIK surgery. I had 2/40 vision and now I have 20/20 vision. I am thrilled with the results and can't believe the difference. I wish I had done this sooner.
---
Sharon Tocchini, Attorney

My vision is great. I mean, my left eye is 20/20. My right eye is 20/30. It is wonderful to see the freeway signs.
It didn't hurt at all. It was quick. It was easy.
The thing I like the best, is you get up in the middle of the night, or you wake up first thing in the morning and you look at the clock and you can see it. You don't have to get up and put on the glasses before you can even see the clock.
---
Claude Marguette M.D., Physician

I had heard of Dr. Ellis for so many years and I've heard nothing but good about him. And I also knew that he was instrumental in developing the procedures.
My concern as a physician was the fact that if the cornea, the outer layer of the cornea scarred then that could be a permanent problem and could distort the vision. But with the LASIK procedure you don't have to worry about that, because there's really no surgery done directly on the outer layer. They go to the inner layer and the outer membrane is basically intact.
I had myopia, the nearsightedness was pretty bad. I also had very bad astigmatism that made it really difficult to even get a good fit with glasses and contacts, sometimes. And he corrected both of them. He has restored me to 20/20 vision.
---
Kristen Jones, Registered Nurse

I compared the costs of contacts and glasses to the cost of the surgery and I realized that I would come out even in about two years. And then I realized that I had additional expenses like the dog grabbing the glasses, the kids sitting on the glasses, throwing my contacts out one time, that made it just much more worth it.
Dr. Ellis was very comfortable to talk to. He gave me confidence that this procedure would turn out for me and his whole office was just very nice to work with. They were very kind. I was very scared and they were more than kind in how they took care of me.
I had it done, now I see with 20/20 vision and it is wonderful.
---
Fred Turner, Public Phone Technician

I researched many doctors. I went to many seminars and I interviewed many doctors and when I discovered Dr. Ellis, I discovered many things about him. Dr. Ellis has been at the forefront of this technology. He has done more surgeries that any of the other doctors I had interviewed and I figured that if I'm going to have this done and if it is something so important as my eyesight, I'm going to go with the best I can find.
It was beyond my expectations and I'm seeing better than I did when I was wearing my glasses. I'm able to see things I couldn't see before.
---
Cheryl Anderson, Business Systems Consultant

I was impressed with Dr. Ellis. They way that he was involved with pioneering a lot of these processes for this type of eye corrective surgery, and co-writing a text book. He is known worldwide.
---
Loree Lee, Dental Hygienist

I did not miss a single day of work. After I had my second eye done I went to work the next day and I was able to clean teeth and see what I needed to see to work.
---
Bob Lim, Executive Director of Patient Information Services

Many people say that they feel a freedom, and I would say yeah. It is definitely a freedom. We video taped my surgery; it took eleven minutes to do both eyes. It was painless. It's just an amazing experience. I would recommend it for all of my family, my loved ones. I would do it again, but I know I won't have to.